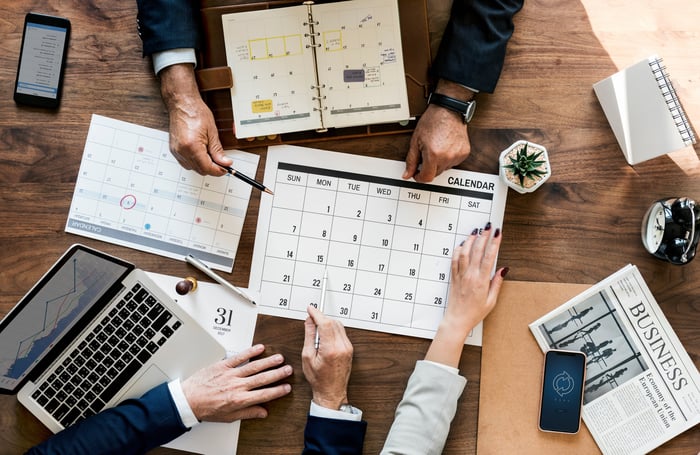 The daily flow of patients through your office affects the environment of your whole business. It's common to find "peaks and valleys" in your medical scheduling. There are times when patient traffic is slow and depleting; other times there is a high volume of patients with not enough time. This can cause anxiety, stress, and negative feelings for both patients and the office staff and doctors. By working out the kinks in your scheduling and implementing the following options, your office can maintain an optimal, efficient schedule.
1- Alert Patients of Needed Routine Exams or Procedures
The consistent flow of patients your office sees is foundational for success. Increasing and maintaining patient volume can be achieved by having a patient recall system in place. Such a system is an effective method to ensure patients return for routine care appointments, follow-up appointments, or preventative health screenings. Patient recall systems alert your office as well as your patients when it is time for them to see the doctor. While it helps keep your patients in good health, it will help keep your schedule consistently fuller.
Investing in a recall system helps with patient retention. It aids in bringing back patients who haven't been in the office for regular visits recently. An alert or reminder notice will let patients know when they are overdue and need to reschedule. These messages could also communicate the value and assistance you will provide. Educate your client about conditions they may have, potential risks to their health, or benefits from being proactive in making their health a priority, rather than just stating they need to come back in. Providing information about such appointments will help result in your office schedule filling up consistently.
2- Online Scheduling and Appointment Reminders
It takes an average of 8 minutes to schedule an appointment over the phone. When your staff is making multiple appointments a day, that adds up to hours of their time spent on scheduling alone. Using online scheduling helps save time for staff and makes scheduling appointments easier for patients.
Research has found that a large majority of patients prefer to schedule their medical appointments online. When focusing solely on the Millennial generation (ages 20-36 in 2018), this statistic is 71 percent favoring online scheduling and digital appointment reminders rather than by phone contact.
The best way to select which communication method will be most effective is to ask the patients. When they are scheduling a first-time appointment or when they come in for their first visit, ask about their preferred method of communication that would be best for the office to reach them at. This question is crucial, as it not only helps the patient receive reminders and information regarding their health but it benefits your business as your efforts are reaching your patients in the most effective manner.
Allow for not only an appointment reminder but an option to reschedule if needed. This is most effective when there is an available option to reply through the reminder itself, rather than using a one-way text messaging system. Giving patients the opportunity to change, accept, or receive alternative dates has decreased the amount of "do not attend" rates. It is of greater ease for clients to reply with a one-word text rather than make a phone call or access their appointment online to add modifications.
If text messaging isn't the best method of communication for your patient, offer options like email, phone calls, or physical mailers. By being accommodative with communication and scheduling methods, your patient retention, on-time arrivals, and filled appointments will improve.
3- Communication Calendar
A communication calendar is a programmed sequence of events, handwritten notes, and special offers that can be sent to patients through marketing automation software. This is beneficial because it allows your office to engage with patients in meaningful and personal ways quickly. Your patients will always know your office is accessible and open to meet their needs when the time comes that they may need an appointment.
This method of communication helps not only keep in contact with your patients but improve trust as there is an open line of communication every time your office reaches out. These messages help your patients feel valued and thanked for their business. It keeps them informed and in the loop. If you run special offers or have any promotional deals, they will be able to know about it.
With this in mind, be sure your communication isn't overused or abused. Frequency and purpose are imperative. You don't want your messages to be spam accumulated in your patient's inbox. Keep every message meaningful and occasional. The goal is to help patients understand the line of communication is open and they can reach out for a returning appointment at any time and will be welcomed.
4- Generate a Waiting List
When a cancellation comes up and your office is unable to fill it promptly, you are risking revenue loss for your business. To help rescue threatened revenue, implement a wait list or short call list in your office. Having a wait list and being able to optimize cancellations helps both the patients and the office. Individuals on the wait list can get in sooner and allows them to see the doctors they need to see, and the office can avoid loss of revenue.
It's common for patients to need to see a doctor and due to scheduling, they are unable to get an appointment with the doctors they need when they need them. This is especially common when dealing with specialty doctors like dermatologists or pediatricians. When these instances pop up, instead of being able to meet with the doctor in that expertise, they are likely headed to their family doctor or a doctor that isn't in that specific realm of practice.
This can be avoided or at least mediated when you give patients the options of adding their name to a wait list. This consists of some list or organized information that office staff can refer to when an opening occurs. You can inform patients of this potential option when they schedule their appointments or when new patients call in. It is found that 91 percent of patients would be willing to accept a last-minute appointment if it means they can get in with their doctor at a sooner date.
Filling appointments with a wait list doesn't have to be a dreaded process for your front desk staff. There is no need to pull out a stack of papers and start from the top making phone call after phone call, hoping someone answers and accepts the open slot. Using a patient scheduling platform and reminder system is the productive option when recalling a wait list. Your staff can access a stored digital patient wait list and send an immediate mass notification informing individuals of the open spot. This message encourages wait list patients to call you to fill that spot, rather than the other way around. Instead of calling down a list of patients and wasting time that could be spent productively elsewhere, your patients will reach out and fill that available appointment for you.
It may take some time and require significant changes to revamp your medical scheduling operations. The investment you make in your patients'time and your own will pay out tenfold when improving your schedule. Your business will see a more consistent stream of patients over time, your patient retention will increase, and you will have increasing success seeing more patients promptly.