Patient satisfaction in any facility is paramount. In fact, it comes second to nothing else.
Health administrators have the mandate of ensuring that their patients are satisfied with their services. Whether it's a diagnosis, checkup, or general care, patients need the best services for them. While it might be impossible to guarantee 100% satisfaction, you can help them feel satisfied so they don't mind another check-in.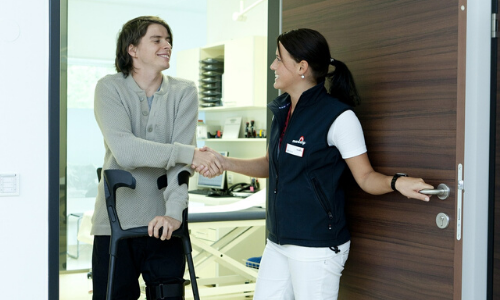 This article takes you through ways you can use to improve a patient's satisfaction.
Start From The Inside
Charity begins at home; that's well said! Is your house in order? Does your staff know how to handle patients? Are they doing the right thing to fulfill the patients' demands?
If you want to improve patient satisfaction, start inside the office. As a healthcare administrator, you must train your staff to understand and believe that patient satisfaction begins with them. Train them on how to show empathy, understanding, and above all, how to serve with a smile. Patients are different, but with the right service, you can give them something to smile about.
Reduce Wait Times
No one wants to wait in a queue or stay for hours in the waiting room. As a medical administrator, what can you do to reduce the amount of time that patients wait before being seen? Streamlining your operations can help ensure your services are delivered efficiently to your patients.
You can reduce wait times by first identifying the problem and then stepping in to alleviate it. Provide a platform or electronic system in which the patients can complete the intake paperwork. This is possible through online patient portals, kiosks, or websites.
Pursue other channels such as automated reminders, wait time notifications, and patient surveys. Waiting for the doctor is the last thing a patient wants, and you can use these methods to maximize patient satisfaction.
Be Helpful to Your Patients
Patients have lots of questions and want fast response times. Finding a quick solution to their queries is a win-win for you and your patients. It helps the patients to find satisfactory answers without direct contact with the facility.
This is possible through a website, online portal, or printed materials. Get a list of frequently asked questions and make available all possible answers through these channels. Patients are much more satisfied when they get answers quickly.
Heighten Physician Awareness
Patients might feel neglected, given the tight work schedules that physicians face. Train physicians on how to better attend to patients while charting the visit in the EHR. You can also give your physicians tools to help increase face-to-face time with their patients. These tools may include having an assistant in the exam room to chart the exam in the EHR or building custom visit templates within your EHR to allow your physicians to chart an entire visit in just a few clicks.
Be Attentive to the Patients
Being attentive to the patients helps you solve many things. By reading non-verbal cues, you can create a good working environment and ambiance in the office. If you want to improve patient satisfaction, you must address any signs of frustration as quickly as possible. By doing this, patients will feel more at ease during their visit and find it easier to discuss their health openly with their physician.
Uphold Leadership
As a healthcare provider, it is crucial to show excellent leadership skills that everyone can follow. As with everything in your office, it all starts with your guidance. If you take patient satisfaction seriously and do everything you can to improve yourself and your staff, your physicians will take note and step up their own game.
The Bottom Line
If you want to improve patient satisfaction, it is this simple. With these tips in mind, you have all that it takes to satisfy your customers. For more industry insight into medical office management, please check out the PCIS GOLD Blog.