To some traditionalists, health care and social media simply don't mix. The forums where people post dog videos and stupid human tricks might not seem like the appropriate places to discuss important business such as medical care. But in reality, social media is key to promoting your medical clinic.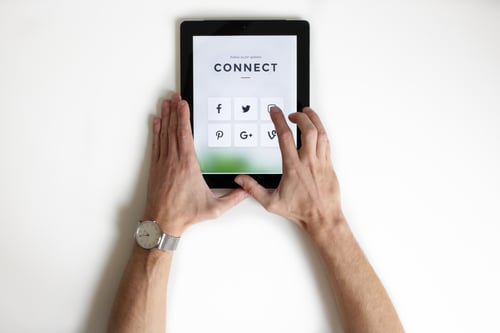 Social media forums are for both the silly and the profoundly serious, and for many, Facebook, Instagram, and other platforms are where they get the bulk of their information. If you do not use social media appropriately, you are overlooking many potential patients.
Social Media Reach
Reaching the Millennials, those aged 23 - 38, requires using social media because 90.4% of those in that age group use social media each day. For some, it's the primary place they receive their information. Many do not read newspapers or even watch television, as they tend to stream programs online. Traditional media ad buys simply won't reach many of this all-important consumer group.
Gen X members, those aged 39 - 54, use social media often as well, and 77.5% of them use it daily. You may be able to reach some of them with traditional advertising, but you can reach most of them on social media. Even the Baby Boomers, those aged 55 - 75, can be found on Facebook and other platforms regularly, with 48.2% using social media daily. This group has the greatest medical need, so social media promotion can enhance your reach with these senior citizens.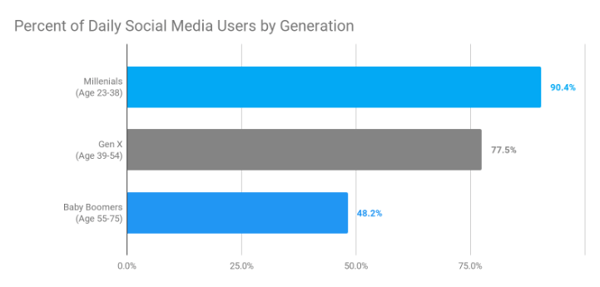 Social Media Influence
Social media users do go online for entertainment purposes, but they also use these forums to do product research. In fact, 54% use social media for this purpose. On any given day, many people are asking their online friends to recommend doctors and other medical services. If you are not popping up in their feeds or in their friends' comments, you are definitely ceding ground to the competition.

Social Media Marketing Methods
When marketing on social media, you should not necessarily join every available platform. Research which ones have the greatest reach and that appeal to your target audience. If you are unsure which platforms they use, ask your patients when they come in for their next visit or send them an email asking for the information.
Remember that your content needs to be rich and informative. Decide on your primary purpose—education, thought leadership or patient recruitment—and then provide content that fulfills that role. Experts recommend that your posts should follow an 80/20 split: 80% information/entertainment and 20% marketing for your clinic.
Once you begin your social media marketing, you need to have a consistent presence. Keep adding new content and encouraging comments and questions. Answer any queries promptly and track conversations, hashtags and brand mentions. Also, use analytical tools to track the results of your efforts. Most social media platforms offer free analytical programs to help you improve your efforts.
Social media efforts are not optional for your clinic if you want to stay competitive in your healthcare community. The phrase "everyone is doing it" is accurate, although not everyone is using a positive online strategy. You can attract and retain patients by maintaining an active and quality presence on social media platforms. Your content needs to be informative and accessible and your marketing pitch brief and well-honed. Social media marketing is effective, affordable and easy once you put a strategy into action.