When talking patient feedback, the conversation needs to go deeper than simply asking, "How was your visit today?" To get the best feedback from your patients and those who utilize your services, you need to gather information from your patients in a variety of ways.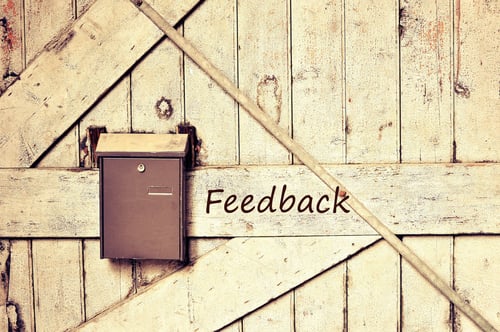 Getting Started Gathering Feedback
Getting general feedback through a suggestion box or simple patient satisfaction survey can help improve the service you provide your clients. A systematic approach to gathering patient information seems to garner the best results. Here are some steps you can take to get started.
Set goals. Decide what information you want and be specific about it. Do you want feedback from only patients with long-term conditions? Are you looking for insight into the needs of minority groups?
Decide who your target feedback group is. Identify the patient groups or service recipients from which you want feedback the most. Make certain your staff understands this is your target group.
Choose methods for information collection. Decide which information collection techniques you'll be using, such as patient surveys, suggestion box, focus groups, etc.
Have a plan for acting on the feedback gathered. How will you use the information collected to improve your service to your patients?
Decide how to pay for it all. Make certain you have the resources allocated to fund your feedback methods and analysis of the information gathered.
By incorporating patient feedback into your clinic management and approach to patient interaction, you're assuring that the needs of your patients are being met.
Selecting the Best Methods
Here are some of the better methods for getting meaningful feedback on the services you're providing:
Online reviews. Patients live in the modern world, and they have access to information at their fingertips. Many rely on reviews posted in online forums as the basis for their decisions for everything from the best restaurant to their choice in doctor. Encouraging patients to use review sites such as Healthgrades, RateMDs and Vitals can increase your clinic's presence in the digital world.
Suggestion box. It may seem a bit old fashioned, but placing a suggestion box in your patient waiting area, along with paper and pen, can get you immediate feedback as your patient is leaving your clinic.
Informal patient interview. At the conclusion of service, ask the patient a few open-ended questions and listen closely to the answers. For example, "What did you like about your visit today?"
Email surveys. Have your staff collect email addresses at check-in. You can utilize survey tools such as SurveyMonkey or Google Forms to create your own survey questions and form. You can then send your patients an email survey request after they've visited your clinic.
Online feedback forms. Expand the impact of your suggestion box feedback method on your website. You can construct an online feedback form for patient use on your clinic's website.
Using Your Data
Once you begin collecting patient feedback, then you have to decide what to do with that information. Again, a systematic approach is usually best.
Meet with your team, including office and healthcare members, to discuss the best way to put patient feedback to good use.
Look through your feedback. Are there any patterns that you can identify? Be sure to examine both positive and negative feedback.
Let patient feedback and opinions guide service and operational improvements in your clinic.
Perception of your clinic's reputation is fluid, so prepare to analyze your feedback on a regular basis. If your office can follow up on this information and take action based on your patients' satisfaction with your service, you'll find your patients' satisfaction reflected in their continuing feedback.