Disengaged employees lack enthusiasm and motivation, which in turn hurts your bottom line with poor performance. However, on the other hand, having positive morale in the office will lead to higher productivity, better customer service, better customer reviews, and job satisfaction.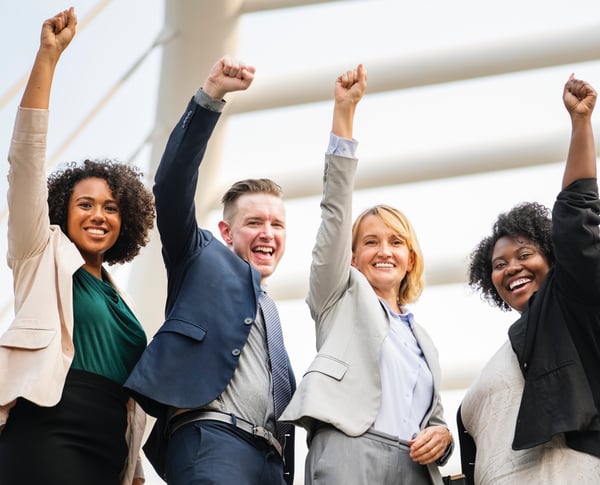 This year at the Medical Group Management Association (MGMA) Conference, we had the opportunity to hear from the board of directors member Kyle Matthews. Matthews has served as a past MGMA president and currently is the chief executive officer at CardioVascular Associates of Mesa. During his presentation he addressed the importance of building good employee morale, specifically, evaluating employees and focusing on their strengths.
Employee Morale in the Office
Fifty-one percent of workers are looking to leave their current jobs—that is half of the team! Disengagement is on the rise and detrimental to a company. Disengaged employees lack enthusiasm and motivation. These attitudes can be quite the "emotional vacuum" and affect the entire office. Disengaged attitudes spread massive negativity, and it's hard to be enthusiastic about working in that environment daily. This is where the importance of employee morale comes in.
Having positive morale in the office will lead to higher productivity, better customer service, better customer reviews, and job satisfaction. Matthews lists his top "Ten Mistakes We Keep Making as Practice Managers" in the medical field. He ranks #2 as hoarding information. Matthews says sharing information leads to trust. If you are hoarding information from your team, assumptions arise and fear and distrust surface. By sharing information, trust is cultivated and you will find yourself with satisfied, productive employees. This includes providing feedback and developing an atmosphere of feedback among everyone, not just managers to employees.
Another mistake he lists that plays a role in employee morale, and ranked as #3, is neglecting the team. This means that it's important to take care of your employees and coworkers. Some critical aspects of this matter are showing employees you care and giving employees opportunities to connect with colleagues.
Creating a Culture of Feedback
Feedback in the office can be quite overlooked and underused, but employees crave feedback. Ninety-six percent of employees report that receiving feedback regularly is a good thing. Unfortunately, receiving feedback periodically is another story. Some employers take up to three months to follow up with their employees. Some companies only provide feedback annually. Not only do employees want feedback, 83% appreciate receiving feedback regardless of if it's positive or negative. The nature of the feedback is irrelevant—your employees want to know how they are doing.
This is where creating an open culture of regularly providing feedback will help employee morale flourish. This is founded upon a safe environment where everyone is helping everyone strive to reach their potential. There will be success if your organization is encouraged to participate in open and honest feedback. This can help be cultivated through encouragement and practice.
Another important aspect of creating this culture is by encouraging everyone to give feedback to everyone, not just those in superior positions to those under them. This relies on the basis of trust and respect. If your employees aren't on good terms or lack a general understanding, giving and receiving employee-to-employee feedback may not be well received. A majority of individuals care and value what their co-workers think of them, so the easier it is to exchange feedback in the workplace, the more employees can excel on a personal and team level.
In Ferdinand Fournies' novel titled "Why Employees Don't Do What They're Supposed to Do and What to Do About It," he gives great insight into employee morale. Fournies discusses how setting clear expectations is often a supervisor's first failure. When clearly stating all the objectives, numbers, deadlines, and expectations,you can be threatening the confidence and morale of employees. When reviewing a project or expectations with an employee, also include goals and reasons for doing the task or project. By portraying trust in your employees and their capabilities, it will help build not only their morale but also their motivation. Fournies continues to stress the importance of following up with these employees also. Let them know when they have done a project well or when you are disappointed in their results. Give them regular feedback, and as soon as possible to prevent any issues that will puncture morale. Being prompt with feedback can help boost morale.
To help increase the feedback that goes on in your organization, try implementing weekly planning sessions, daily check-in meetings with your team members, or monthly one-on-ones to name a few. Through encouragement and established routines, you can cultivate an environment of regular feedback.
Showing Employees, You Care
The way you treat your employees (and the way they treat each other) is central when building employee morale. Celebrate special occasions like birthdays, weddings, childbirth, etc. with your employees and colleagues. By being involved in your team's lives, you can achieve better unity and build better relationships.
It's reported that 80% of employees would work more hours to work for a more empathetic employer. By reaching out and helping every employee feel cared for, it will be returned into the company and benefit everyone as a whole.
Make taking care of your team and employees the highest priority. Help every individual feel valued. By putting in the effort to do so, it will help inspire employees to work hard and try their best. The more you invest in your employees, the more they will believe in themselves. Acknowledge your employees' contributions and let them know you appreciate their commitment.
Connecting with Colleagues
There's no better way to boost morale than to make "fun" a mandatory part of your office. Make your office not only enjoyable but one that harvests a connection with peers.
More than half of the employees will eat lunch at their desk alone while continuing to work. This creates two problems: your employees are overworked and they are lacking connection they should be having with their colleagues. Overworked employees make for unhappy, grumpy team members that are unproductive and bring down their peers. This should be avoided at all costs, and time to decompress and cultivate a human connection should take precedence.
It's also reported that 34% of employees don't think they have enough interaction with their colleagues. Encouraging interaction and connection with the employees who are already craving it will help create a more positive atmosphere and help increase morale. Some ideas to help incorporate social interaction among employees could be team-building activities, company events, motivational speakers, team lunches, etc.
Make employee morale not just an essential part of your office but a top priority. Creating a culture of feedback, caring for your employees and colleagues, and focusing on enjoying the connections you have formed will increase the morale in your office. Your employees will be motivated and confident helping increase success of the entire organization.