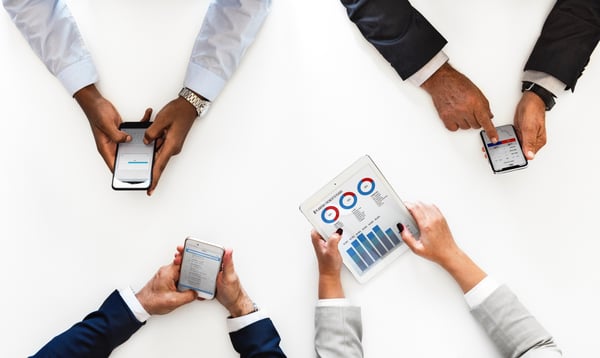 In 2017, patients experienced an 11% increase in their out-of-pocket cost, and those increases aren't planned to slow down anytime soon. This means that patients are responsible for more of the overall cost of a visit. And with more patients not paying their bill in full, it is critical that medical practices strengthen their revenue cycle management (RCM) to stay fiscally strong.
Let's take a look at five steps practices can implement to improve their efficiency with collections payments.
1- Gather the Correct Data Up Front
Any RCM strategy needs to start with gathering the right data up front. This data is vital in not just knowing who your patient is, but identifying their contact information, what insurance plans they have, and other essential information.
At a minimum, your clinic should be collecting the following information:
Patient name
Contact information
Primary insurance information
Having the right information from the get-go can allow you faster payments from insurance and more rapid follow-up with patients who miss payments. Incorrect information can easily lead to lost revenue as you don't know who to charge or who to contact.
2 - Pre-Service Eligibility
Check with patients' insurers before their visit to verify if exams or procedures are covered. If insurances are not going to cover all or some of the visit, communicate with patients to notify them of their responsibility and make payment arrangements as necessary. Before hanging up with them, repeat back to them the arrangement to verify they fully understand what the expectations are. The last thing you want is to do all the work and have no profit to show for it in the end.
3- Put Patient Care First
Successful healthcare groups have something in common with successful companies: Their focus is on the consumer. Laser in on providing the best care around. If the provider gives excellent care, then the money will follow as a satisfied patient is created.
Excellent healthcare isn't just a measure of how successful the visit, exam, or procedure went. It starts before the patient comes into the office and it doesn't have an endpoint. Before patient visits, send them education on what to expect, the information you may need them to bring, and any other relevant information. Does their insurance cover the visit? Do they need to pay a co-pay? Work with them before their visit to assure they understand their financial responsibilities before they even step in the office.
After the visit, follow up with them to make sure they have an understanding of what they need to be doing while not in the office. Ensure that they know any follow-ups they need to come in for. Even after recovery, don't forget about them. Use their demographic information to remind them of any health maintenance exams or procedures that may be pertinent to their lifestyle. Make sure they feel that you know and care about them and their healthcare.
4- Keep yourself in the loop
Insurers are always making changes to their reimbursement plans and contracts. Stay on top of them so you know exactly what to expect. This will allow for more ease in verifying the payments you are contractually due to receive. Even though staying on top of contracts can be time-consuming, it can help you save time and money in the future.
5- Offer a Variety of Payment Methods
We live in a day of convenience, and patients expect healthcare to be convenient also. Offer them multiple ways to submit payments to your clinic. These methods could be kiosk payments made in the office, online payments through your website or patient portal, or simply by paying with cash, credit or debit card.
Not only should you offer your patients multiple ways to pay, but also educate them on these payment methods. You can quickly teach them to add their payment method information to their account or you could send them an email with the various options and links to your payment website. If you feel they would like to have information in their hand, then you could give them a leaflet outlining their options as they are leaving your office.
In summary, it is imperative that physicians and their administrators implement a revenue cycle management system that allows them to care for their patients, not payments. By doing so, patients are more educated on their financial responsibilities and are more willing and able to complete their payments in full.